First,I love this skirt.
The pattern is
Simplicity 1321
, which has 3 very different styles, making it good value.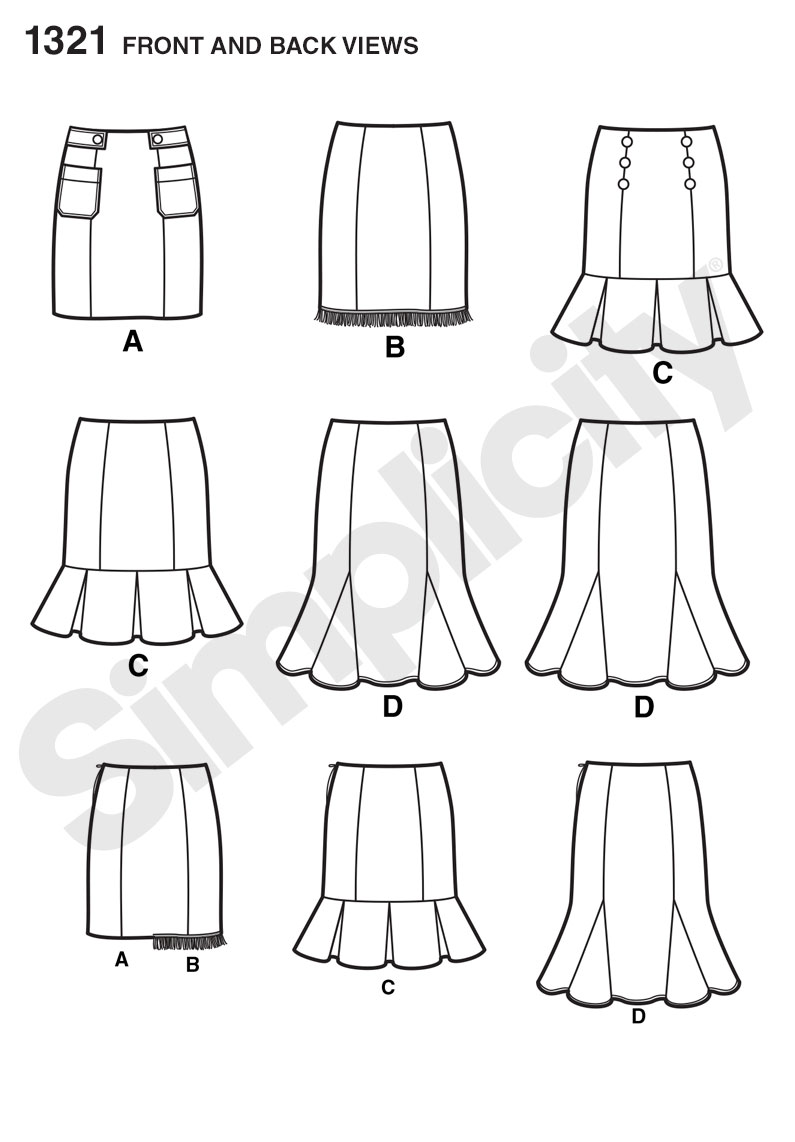 I made style D with four godets, and I really like the straightish shape with the flare at the hem (and the potential for a bit of a swirl when you move quickly). The fabric is lovely,
black wool crepe
from Truro fabrics. It is expensive, though strangely it seems to have gone up £10 a metre since I bought it! But for most skirts a metre would be plenty. It sews beautifully and is light with a good drape, which I think you need for the godets here.
The six panels (do you still call them princess seams in a skirt) mean that you can easily adjust for a good fit and this has a close fit but is really comfortable. I cut a 14, which should have been plenty big enough, but it was a touch tight so I added 1/8" at the side seams at the waist and 2/8" at the hip seams. I also added 2 1/2" to the length as I wanted it below the knee. You can see I have added a waistband. I find that with a high, small waist facings just don't fit well on me, so I think I have finally got the adjustments for a well-fitting waistband right. This is my second waistband using my fantastic new haberdashery find,
stretch petersham.
I bought a 20m roll and I think it's great. So often you add a waistband and if it fits it cuts in to you (especially for some reason when driving). This waistband is strong and well-defined but with a little ease for comfort.
So classy skirt which I love, and here it is with a new top.
This one is McCalls 7249 or Threadcount 1502 given free with Love Sewing. Does anyone know what on earth is going on as McCalls patterns I have bought in the past are now appearing with pretty grotty line drawing covers as Threadcount patterns free with Love Sewing!
This is an interesting pattern, which has its challenges, especially in making the V nice and neat and the gathered sides looking equal. The fabric is wool jersey (sorry I can't remember where I got this). It is gorgeous to the feel, surprisingly warm and cosy and I love the colour. I bought it for a dress only to find it is really thin, which makes it good for the front of this top where you end up with three layers in places, but it has made the front lower hem a little wavy. I think this might have been solved by taking a little of the width out at the front probably grading to a smaller size there.
I cut my usual size 14; raised the waistline by 1" and reduced the shoulder width by 5/8".
You can see how thin the fabric is from the back photo, so I will wear it with a jacket to work.
Hope you had a lovely Easter with lots of chocolate. I was given a handmade shoe by one of our wonderful patisserie lecturers at work, almost too lovely to eat ..... almost!