Another work dress which has already seen a fair bit of wear because it is so cosy and easy to wear. The fabric is ponte roma and the black, in particular, is thick and warm, in fact it is a little thicker than the teal, but it has worked out OK. I have been really liking colour-blocked dresses and I picked this pattern with colour-blocking specifically in mind.
This is a really versatile pattern with a choice of three sleeves and two skirt-styles, and I might well have a go at the ruffle skirt version as well. You can also vary where you colour-block which could be useful for using up smaller pieces of fabric.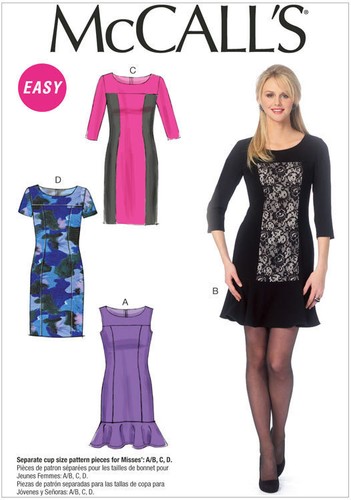 I cut a size 14 grading a little at the waist and hips. The dress is still a little roomy and a 12 overall might have been better (though I think a full-bust adjustment would be needed then). However, I do have a little tummy bulge going on and if I made the dress tighter it might start to stretch the fabric over the stomach. I made my usual changes; raised the waist by 1"; took 5/8" from the width of the shoulders (I should have narrowed the neckline slightly as it does just let my bra-strap peep out). I also added 2 1/2" to the length, which I think works well.
I do think it is a bit of a shame that the back has no colour-blocking so it looks a little plain. There are 2 long darts to give some shaping.
This is a described as an easy pattern and I would say that is the case. I left the zip out because the dress easily slips over the head (and it is a much easier make without a zip). I made the back facing into one piece. The facing is quite substantial and I was a little worried about the thickness but it does seem to be lying ok. So not the most exciting dress in the world, but a straightforward sew and a nice wardrobe staple.
On the non-sewing front it's been a lovely weekend. On Friday we got the best possible news, Dan has received his offer from Warwick University for the postgraduate medical degree, he can finally fulfil his dream to be a doctor. I am so chuffed and so proud, it has taken him years of trying and he finally got there! Saturday was one of my sewing workshop days and I am making a tailored jacket which has masses of hand sewing (much more to come) and then Sunday was mothers' day. I was lucky to spend it this year with Dan ..
.... and Gemma ... and some sunshine as well.
We had a lovely lunch and then visited Sizergh Castle, built during the 16th Century (the Tudor part)
and the earlier 14th Century part.
Inside the oak panelling felt very Elizabethan and of course, this made it rather dark and cold.
We had a lovely day completed by watching Suffragette (excellent) whilst eating a curry! Great day. What did you do, hope it was great!