I've had this ribbed-knit in my stash for some time, bought by the kilo at Abakhan in Preston. The cosy cardigan gave me the nudge to get it sewn. I wanted a pattern which had a bit of shaping to it, so chose the
StyleArc Nina cardigan.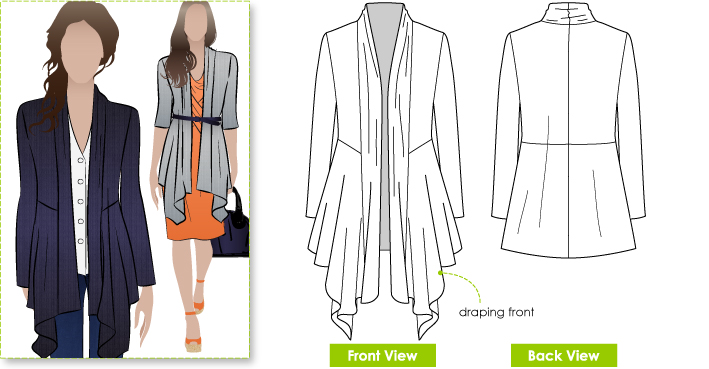 It has a fitted waist and then the square peplum makes a waterfall front. I cut a size
10, because although this is for a size 36.5" and I'm 37.5" I thought the shoulders and waist would be a better fit and there is plenty of room. I didn't want to have overlocked exposed edges and didn't think the rib-knit would hem effectively, so I have left the front edges and hems raw. I usually hate raw edges but this seemed like the only solution. It looks OK, but I don't suppose it will stand up well to washing. I managed to squeeze it from 1.5m of fabric.
StyleArc patterns are stylish and this is no different, however, as I have mentioned before the very brief instructions make them difficult for beginners.
You can wear the style with or without a belt.
The sleeves were too long and I took them up by 1 1/4" and also narrowed them by 3/8". I twin needled the sleeve hem.
The back is fairly plain but fits quite nicely at the waist. Overall, I like it (especially the colour) and might make it again with the right fabric.