Well I've made it for another month and I'm pretty pleased that I haven't skipped a month yet.
This is dress
112 in the 8/2018
issue a stretch jersey dress in petite size. I wear a lot of dress for work with a jacket and this is really useful for this (worn it quite a few times already). I really loved the fabric in the magazine. Did you know you can actually buy the same fabric? Unfortunately, the on-line fabric shop was in German and I couldn't work out the shipping charges!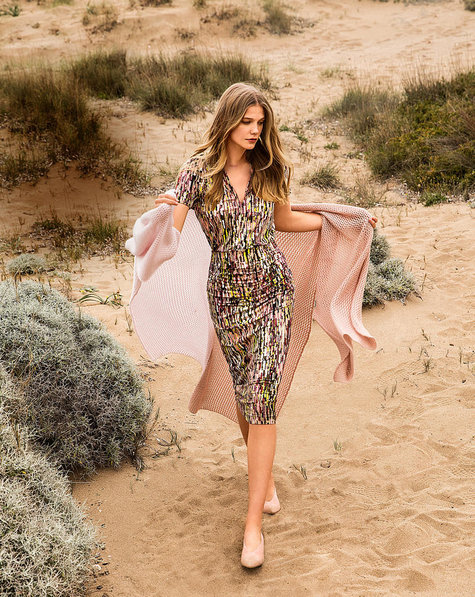 So I went for something similar. This is a
John Kaldor stretch polyester jersey
, £10 a metre from Sew Essential. It is very stretchy and thus perfect for this dress, although it does feel synthethetic. This is a very clingy dress, and although it is very comfortable, it isn't very forgiving!
I raise the neckline to be suitable for work, though a bit too much.
I'm often attracted to unusual patterns, and the skirt of this was no exception, there were two gathered areas on each size. The gathers were a little tricky, you have to be careful to try and ensure they match on each size. It was also difficult to level the hem. I do like the dress though, and have got quite a bit of wear from it.
I made another BurdaStyle pattern this month, this cute little top, inspired by Hila from Saturday Night Stitch. If you haven't watched her vlogs yet, watch
this one
, which shows her fantastic makes including this top.
This week I have also welcomed a new friend! I have splashed out and treated myself to a new machine. I do love it, but ...... I am getting static electricity from it that is quite unpleasant and I have to wear rubber soled shoes. Has any one else ever have this problem!
And here's a photo of my sewing room, with my stash and my love dog Tess. I'm really lucky to have such a great space for my sewing.